Marble[wo]man Blog July 7-31, 2011
Acclimation: Try Try Again

As I progressed towards my second pituitary tumor resection, my physicians had some concerns about the amount of stress that could be potentially placed upon my heart, while under anesthesia during the surgery. For I was not as fit as an astronaut--if I had ever been. Although not a requirement for the operation, they were not certain as to how my body would withstand being in suspended animation for several hours. A stress test was ordered.

The goal of the stress test was to get my heart rate up to one hundred and fifty beats per minute, then take an electrocardiogram reading. The reading, coupled with an ECHO, was reviewed by my Cardiologist, who would give the "go ahead." Prior to his approval, a good indicator, for me, was that I did not hock up a lung during the test, nor did I hurl my lunch, which I ate forty-five minutes later: must be control over the reflux nerves!

The surgery was scheduled for Wednesday, June 29, 2011. The Cardiologist confirmed that my heart had enough stamina to handle the operation. So, on Tuesday evening, before midnight, I prepared and devoured Sprouting Beef:

Sprouting Beef


Boiled

Brussels Sprouts
Garlic (minced)
Egg Noodles
Water (filtered)



Pan-fried

Cubed Chuck (bite-sized)
Coriander Seeds (ground)
Jerk Spice
Olive Oil
Boiled Broth
Arrowroot
Sprouting Beef


Post-operation, I was monitored for a couple of days in the Intensive Care Unit. Having no resounding complications, I was transferred to the Acclimation Ward.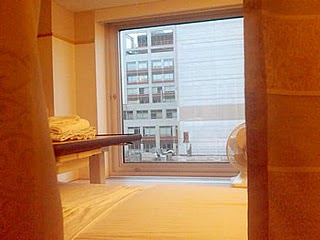 Acclimation Ward


The goal was to rehabilitate the normal do-it-yourself (DIY) home healthcare tasks, and to take note of the severe post-op symptoms: the warning signs of adrenal insufficiency. The DIY for me to focus upon was bathing.


Contemplating DIY Bathing


A day later, I was back home. I quickly re-acclimated myself with the kitchen: utensils and all.

Subtle Tureen and Cute Ladle Soup


Wasabi Paste
Garlic (minced)
Pickled Ginger (minced)
Chicken Stock
Veggie Noodle Strings
Corn Niblets
Shrimp (frozen)
As I ate, I watched TV. Soon after, I was upstairs drawing a bath and bathing, during which I caught-up on my podcasts (and while flushing my nose and cleaning the tub). I put on some shorts and t-shirt, then was at the coffee table reading the literature given to me by my Endocrinologist. I checked my email, washed the dishes, and acquired an appetite for a roast beef sandwich with swiss, spicy-mustard, mayonnaise, thick tomato slice on wheat--cheese-powdered chips on the side.

Appetite acclimated, I hungered for sleep and the morn--Once Home Breakfast:

Once Home Breakfast


D'Anjou Pear (peeled, cored, poached)
Filtered Water
Lemon Squeeze
Brown Sugar
Butter



Sun Dried Tomato (minced)
Turkey Bacon (chopped)
Creme de Coconut
Heavy Cream



Flounder Fillets (smothered)



Croissants (petite)
Pear (halves)
Kokos Relish (spread)
Dried Herb Spine (mint)
Eggs (sunny-side, pointed)
Once Home Breakfast
Redeeming Qualities: Sources of Frustration
July 3 - 18, 2011

"I am your mother! I gave you life, and I can take your life away," my Maw reminded me ever since I understood the words she exclaimed. Fortunately, for her, I was a precocious child, and I understood exactly what her initial introduction and first impression meant.

"I will always be your mother no matter how old you are," she declared even before I could articulate my siren sobs into wordy wails, which is acceptable when you are forty-five days old, but not when you are forty-five years old.

However, my mother stayed with me dutifully in my hospital room as I ranted about overcrowded refrigerator space, and how I had not allotted enough space for her foodstuff, about how I had planned meals for the next couple weeks so that she could focus on overseeing my recuperation once home.

I incessantly droned on, complaining that she had not called me in advance, when she said she would--touch base before leaving to pick me up and take me home, so that I could coordinate with my nurse the publication of my discharge papers.

"My status just changed. The shift just changed. The new nurse is going to have to review all of her cases. I am last, in priority, on the list!!! Now we are going to have to wait several hours while the critical-care patients are attended to. We are going to rack up parking fees. [I WANNA GO HOME, MOMMY! WAAH!!!]"

Maw waived away the concerned hospital staff as she tried not to make sense of her post-surgery, traumatized son's ill behavior. She considered whether or not (or how) she was going to sustain my life. For I was to be released under her care.

"Once I get you home, you are going to get your rest," Maw threatened from her pursed lips.

Alerted, I knew that I was not going to receive the private prenatal care I regressively desired, but would receive the public toddler discipline tactics she could deftly inflict: bicker banter provocative punishment.

"You're not doing what the doctor [intern] said," my Maw tattled.

"You're not doing what the doctor [primary-specialist] said you should be doing, what you said you agreed to do, going to do--as I said before what I needed you to do the last time you said 'OK' to, but did not do, but you promised you would do to get done, that you are complaining about now like you did then, ditty-doo," I scolded incoherently after taking my post-op 'use care when using machines' [or engaging in complex thinking] medication.

"This is not my problem. I am your mother," she said in mantra, intoning infallibility.

Infantile tantrums and maternal tsk tsks were in abundance for the first couple of days in our familial captivity. The two of us recognized and acknowledged the burdensomeness of our emotional breakdowns and the possibility of obtaining satisfaction. Since I was past the critical stages regarding home healthcare assistance, what was of importance now was getting to my follow-up doctor appointments. Maw had some upcoming appointments as well. We coordinated our calendars (aka scheduled conflicts) to determine when she would need to be here with me for consecutive days.

With time spent dining on culinary musing repeaters (and Maw drinking her power protein powder fruit smoothies), we set aside an evening to partake of Continental To-Go from the Orient (aka Chinese Takeout) for dinner.

We ordered menu items that were familiar to us, menu items that she and I have eaten for over thirty-eight years:


Shrimp Roll
Egg Roll Pork
Shrimp Egg Foo Young
Moo Shu Pork
Barbecued Spare Ribs
Fried Noodles
Duck Sauce
Pepper Oil
Fortune Cookies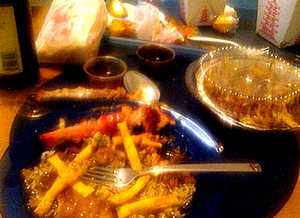 Continental To-Go from the Orient
The only disappointment was that there were no almond cookies available. I forgot to request hot mustard. Nevertheless, that night, Maw and I were fully sated--with leftovers for lunch the next day.
Gratefully Fed
July 30, 2011

This heatwave morning, I wrestled my arms through the backpack's shoulder straps (with a monograph book enclosed in the compartment, water bottle affixed). I then walked (approximately three-quarters of a mile at a non-exercise pace) to the neighborhood's (traveling) farmer's market. Amongst the small crowd, I was able to purchase some heirloom tomatoes, corn, and peaches. I sauntered a short distance to the park, sat down at a cafe table, drank the water, read a chapter, and ate the seemingly innocuous apeche fruit amongst a gathering of festive folk.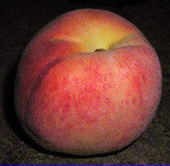 Once back home, I had a lunch-snack consisting of two locally manufactured turkey hotdogs, which were accompanied with horseradish mustard, triangular chips, and an iced tea drink. Having read a couple of magazine articles, I then filled the laundry machine, and then washed dishes while I waited for the freshly ground coffee to percolate.

For evening dinner, I prepared:

A Heirloom Tomato (olive oil)
As I watched the televised broadcast news, I was grateful that I did not need to be stamped for approval, and that the distance I traversed coupled with the meal(s) consumed were not part of a warlords' travail laden with diminished provisions--grateful that the Somali plunder has yet to go global.