Sandy Watiff Off-Season
Part 1
The Challenge
The Charge
The Child
The Call
Part 2
Road Tripping
Adventure Underway
Roadside Nap
Bladder Control
Part 3
The Landing
Part 4
The Acclimation
Part 5
The Overseer
Prefab
Interior Design
Part 6
Waffle Breakfast Bickering
Trees: the Forrest and the Woods
Part 7
[f]Au[x] Natural
Facing the Challenge
Watiff Scenarios
Travel Portrait 18
Sandy Watiff Off-Season: Part 6
August 25, 2008 [listen]
I. Waffle Breakfast Bickering
I awakened as morning broke into daylight. Eddie was fetally cocooned in his blanket. I grabbed my cell phone to check the weather report that was text-messaged to me.
"Sunny and eighty-four degrees--a good day to go to the forest. I'll be able to fulfill Eddie's vacation request early. Then I'll be able to spend the remaining time doing what I want to do. I've got to get going."
"No need to get him out of bed just yet. I'll start making breakfast: waffles. By the time he wakes up, breakfast will be ready."
I went into the dining room and located the travel guide.
"Ooh, a national park--plenty of trees... We're going there. Forty miles? Perfect!"
I went into the kitchen and whipped up some waffle batter. I grabbed from the storage container and plugged in the electric waffle iron. While the iron heated, I started making the coffee.
Eddie stumbled out of bed and asked for me.
"I'm in the kitchen, getting breakfast ready."
"I want cereal."
"I'm making waffles."
"I want cereal."
"You can have cereal--one bowl, then waffles."
"Okay."
"Sit down at the counter, now."
"Daddy."
"What."
"Where are we going today?"
"To the forest. Here's the cereal."
"Where's the spoon?"
"There."
"Milk."
"Wait a minute. I've got to start the waffles."
"I think I want to draw."
"What about the cereal?"
"Never mind. I think I'll wait for the waffles... Can I have a plum?"
"Right away."
"Okay, dahdee."
I took a deep breath. I heard a click. When I looked in the direction of the waffle iron, I noticed that the green light was indicating readiness to make waffles.
"Butter spray. A third cup of batter into the center. Close lid. Get plum. Peel off sticker and wash."
"Here, Eddie. The plum is on the counter for you to get."
"I'm over here, daddy, drawing."
"I'm in the kitchen, over here, making breakfast, son. I want to eat, get dressed, and go to the forest!"
Eddie rushed into the kitchen to get the plum. I heard the iron "click." I decided to wait some seconds more before plating and buttering the waffle because this was the first one.
"Dahdee, can I have something to drink?"
"In the fridge-sippy-cup.
"Can you put more ade in the cup?"
"Sure. Let me get this before the waffle gets too toasted... Onto the plate... Butter... One-third cup of batter... Lid down... Sippy-cup... Ade... There you go. Breakfast will be ready in ten minutes."
"Can I bring my drawing pad in here?"
"You'll have to sit at the counter, Eddie."
"Okay."
"Fine."

II. Trees: the Forest and the Woods
We finished eating breakfast, showered, and got dressed within an hour. I almost forgot the sunscreen. Eddie decided that he would wait to put the lotion on when we arrived at the forest. I decided to put my lotion on now. We were buckling our seatbelts within ten minutes.
When we arrived at the forest, as agreed, Eddie asked for and applied the emergency sunscreen, which was stored in the glove compartment..
"Don't forget your ears!"
While I waited, I got out of the car, went around to the hatchback, and retrieved my digital camera. I checked the batteries and settings.
Once Eddie and I completed our minor tasks, we proceeded to the forest, walking on the path, which consisted of a field on the left and the woods on the right.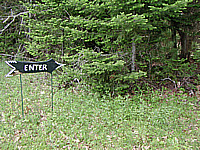 After about a tenth of a mile, there was an entrance sign.
"Here we go!"
"Yeah!"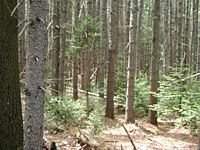 Eddie walked in front, leading the way. There were signs along the path with tidbits of information and instruction. Being the hour was close to lunchtime, the forest animals seemed not to be out-and-about I explained to Eddie.
"Except for group of birds up there rustling in the trees. Can you see them up there, son?"
I pointed my camera upwards, hoping to get a quick snapshot. I made a performance of the situation by taking several pictures--of nothing but branches.
"C'mon daddy," Eddie said disappointed. "Let's go further."
"Alright."
I felt a sting on my arm that made me stop before I continued down the path.
"Hey. What was that?"
"Daddy, c'mon already."
"I'm moving. I'm moving. Keep going."
Zzzt. Zzzt.
"Ow. Ow! Wow!!!"
I pointed my camera to my arm. There was an insect perched on my left elbow. Could this be the infamous black fly?
"Daddy, there's a sign over there. Let's read."
"Oh-oh, okay, son," I said, remembering the warning I received way back when I was arranging accommodations for the vacation.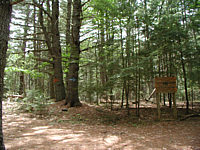 "Uh, daddy. The sign, please."
"Um. I'll be right there."
I noticed that the birds had stopped chirping. Had they gone to lunch as well? Eddie seemed not to be bothered by the flies, so I decided that I should not be distracted by a couple of stings.
We trampled onward along the path, finding sticks to throw. Eddie found a neato tree formation--created by nature, or by a human?
"Ow. Hey! This is no kidding!!"
"I'm no kid, daddy."
"I'm not talking about you, son. I'm being bitten."
"There is no wildlife out here, daddy."
"Sorry about that son. I didn't mean to disappoint, but I have been bitten. Ow!"
"By what! What!! I don't see anything!!!"
"Right here!"
I pointed my camera to my elbow, and took a picture.
"Mosquito, daddy," Eddie teased.
"No, wildlife in the form of a fly, son."
"Shoo fly, shoo," exclaimed Eddie ecstatically as the insects began to swarm all around me, but not around him.
Why? Why! Why?!
Then I remembered: the sunscreen. The sunscreen I used was scented--a big no no. The sunscreen (I applied to my arms, legs, and face) was a father's day gift from my mother--a cologne set dubbed eL-Minx as fashioned by the new all-purpose/all-occasion designer [HYNT]-Hynnt: Help Yourself in No Time by Hynnt. [The actual cologne is musky with a peppermint finish. The bottle is catty-ferocious.] Hynnt's motto for the cologne, eL-Minx, is "Smell good by staying within your elements.")
"But I'm in the woods," I cried out.
"What are you saying, daddy?"
"Scented as opposed to unscented."
"Huh?"
"I'm feeling a little dizzy, son. We're gonna hafta turn back," I determined after swatting the side of my face, boxing my ear.
"Do we hafta, dahdee?"
"Unfortunately, yes."
Dehumanized, the black flies swarm, causing me to engage in sectarian self-flagellation.
Eddie and I walked briskly--sites unseen. The pesky surround sound from the teeming flies harmonized the eerie tumult--a perilous feeding frenzy that left me bloodied, yet not scarred physically.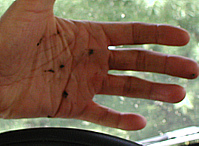 Having a hand in this infliction by smearing myself with the flagrant solar salve, I remain haunted by the experience recalled--with birds tweeting in my head.
I have away flown from the forest, cast out from the woods--flawed.